"If men come unto me I will show unto them their weaknesses ... ; for if they humble themselves before me, and have faith in me, then will I make weak things become strong unto them."
"WHAT YOU DO SPEAKS SO LOUD
I CANNOT HEAR WHAT YOU SAY."
Ralph Waldo Emerson
Communication seemed to be the theme in Sunday School and Young Women's today...communication with our family members, as well as communication with our Heavenly Father. The verse in Ether reminds me that I need to be humble, go to God with an open heart, and be ready to follow the path He has for me...my weaknesses (I'm working on being a better listener) can then become my strengths! :) And the quote by Mr. Emerson is brilliant...our body language and actions usually trump any words that come out of our mouthes. Adam and I are constantly working on "content communicating" what we truly want and feel...what we say, we mean. And while my prayers express gratitude and love to my Father in Heaven, I have to be sure my actions follow suit.
And on a side note...after Sacrament meeting Adam went to take some papers to the Bishop and I headed to Sunday School...before it got started I had Brooks show the 2 teachers how good he stands...I stepped back and said, "Brooks, come hear sweet boy!" He then got the biggest grin and took 5 good steps toward me!! I snatched him up and said, "stop! Stop!" and we all had a good laugh! I said, "You need to wait 'til Daddy's here and we have a camera before you to start walking..." And then tears started to well up in my eyes...yea, I don't think I'm emotionally ready for my little B to grow up and turn into a walking boy...yet, I can't wait. He's been a mover and shaker from the start. And this Dr. Suess quote says what my heart feels...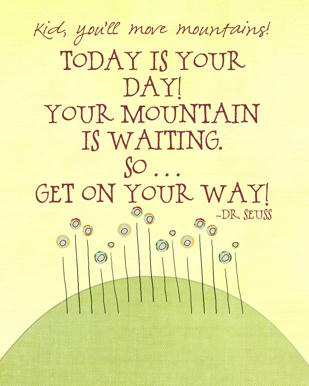 Today was a good day.